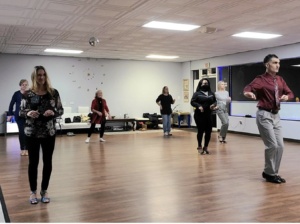 Monday and Thursday nights, ladies are invited to our Ladies' Latin Jam class. No prior experience in dance is necessary for the 6-7PM Beginner Classes where we dance to a variety of lively Latin tunes, learning steps from such dances as Cha Cha, Bachata, Salsa and Rumba.
From 7-8PM, for those of you with some dance experience, we pull from these same Latin dances and use more advanced movements and routines.
Drop in any night to either class — we will make sure you feel welcome and have some fun moving to the music,
No registration needed. $10/PP.