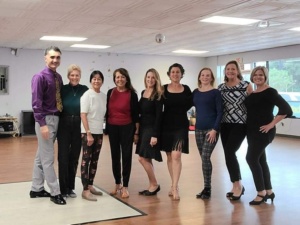 Congratulations to these lovely ladies from the Newcomers Club of Amelia — they just completed their Bolero group classes. Well done to all of you!
We start next Wednesday (Feb 2nd) a new dance: West Coast Swing. Join us from 2-3 PM as you move to cool, bluesy music and learn some low-impact dance moves.  This class pairs well with the East Coast Swing & Jitterbug classes we have in the 3-4PM time slot. East Coast Swing is danced to music that is a bit livelier, offering a fun, aerobic workout.
We welcome new members to either of these classes from the Newcomers Club —  drop in any week and easily follow what we are doing as we review previous movements each session before adding new movements to the routine.
No registration needed. $10/per person.