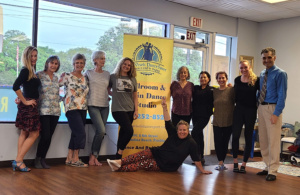 Lots of fun new faces joining us this past week for our Ladies' Latin Class.
Beginners:  We have Monday and Thursday night group class from 6-7pm. We go over basic steps to upbeat music — no experience necessary.
More advanced dancers:  Check us out Monday and Thursday night from 7-8pm. We dance to lively Latin music in this class as well yet take the dance movements are more advanced, building on the basics learned in the Beginner class and developing a routine.