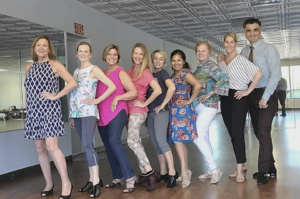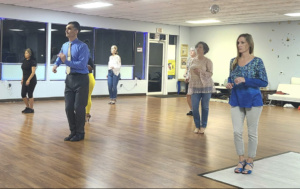 Wednesday afternoons are special — it's when we literally get into "the swing of things." Ladies from the Amelia Island Newcomers' Club join me at the studio for West Coast Swing group class from 2-3pm and East Coast Swing from 3-4. Each class is just $10.
I've been asked about whether or not it's okay to drop in — you've been busy and forgot to sign up on the web site. Absolutely!! The studio is spacious enough that we can easily handle extras.
Another common question is "Which Swing class is right for me?"  Feel free to check out both and see for yourself. One simple difference is the type of music you dance to:
East Coast Swing is typically danced at a faster, more energetic speed that West Coast. Music can be early rock and roll (such as Elvis Presley's "Jail House Rock"or Big Band jazz music.) West Coast Swing music is slower and often bluesy. Contemporary music, R&B and even Country music can also fit the WCS dance.