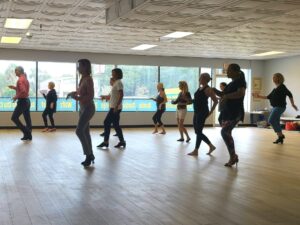 The ladies from the Newcomers Club of Amelia Island enjoy learning some fun new dance moves.
This club reserves time on Wednesday afternoons to have various members drop by the studio to dance. Instruction begins with everyone learning at once, together, and then Gia shows them how to apply the moves to dancing as a couple.
It was great to welcome some first-timers to the dance floor this week — and also see some returning friends
NOTE TO ANY OTHER PRIVATE GROUPS OR CLUBS:  Do you need to get ready for some holiday or wedding dance event?  Would your group of family, friends or neighbors like a personalized program to learn a dance or two?  Call me to discuss what we could do for you!