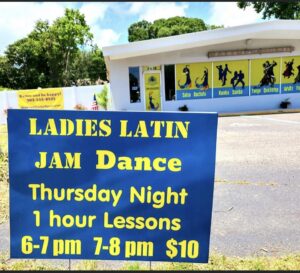 Hello Amelia Island and Fernandina Beach!  I hope everyone had a great summer!
Ballroom & Latin Dance classes at GiaViseliDanceSport on 8th Street start back today, September 12.. I invite you all back to the dance floor to enjoy music and movement with me.
Monday and Thursday are Latin Dance Days — from 6 to 7PM we offer a beginner class and from 7 to 8PM and Advanced class.
And, as before, private lessons and couples lessons are available — call me for details. 302-252-8525.
What is missing on this dance floor?  YOU!!!!